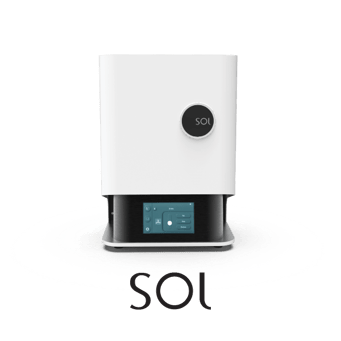 SOL is our latest generation of LCD printers and specifically designed to be the best chairside 3D printers available. SOL has several technological improvements to the UV light, reducing the need to replace any consumables on the printer, need for maintenance and improving the light uniformity for better print results.
Another advantage is the increased area of the build platform. SOL's build platform is 25% bigger than for DENTIQ. SOL also comes with different build platform sizes. Please refer to the following documents to compare the printing speed time and build platforms SOL - Build platform
The material used in light-curing 3D printing is photosensitive resin, and it depends on a suitable wavelength. Our light-curing 3d printing works with 385 - 405 nm wavelength photosensitive resin.
SOL can be used with multiple materials. The product page on the Ackuretta website shows all of the resins for which the 3D printer is calibrated. SOL can develop multiple applications, you can find examples of the dental applications that the SOL can produce on our dedicated Application article . The number of applications that can fit the build platform will depend on the type of application. You can always download the flier via the Resource Center on the Ackuretta website. You must have a distributor account to login.
SOL firmware can be easily updated via the user printer interface if the printer is connected to a network.