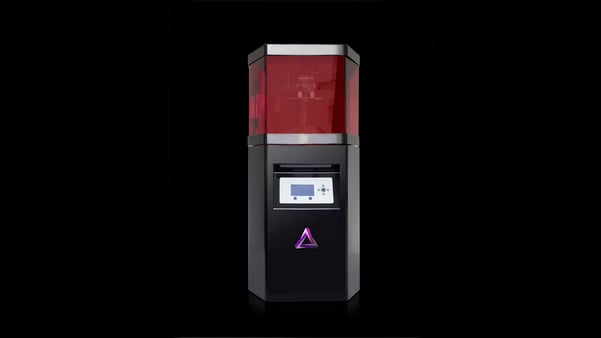 Ackuretta Launches Ackuray A135 Professional DLP 3D Printer with 4 Resin Materials
25th January, 2017
Taipei, Taiwan – Ackuretta Technologies, a leading innovator and manufacture of professional grade 3D printers and materials, today unveiled the new Ackuray A135 3D printer along with four engineering-grade resin materials ideal for applications in jewelry, dentistry, medical, manufacturing/protyping and more. Built with high-grade, durable components, the Ackuray A135 system implements standard DLP technology while introducing several elements to improve the reliability of the machine and the quality of the prints
The Ackuray A135 provides a build envelop of 135 x 76 x 130 mm with 70 micron resolution on X and Y. It features a closed-loop brushless servo control of the Z-axis which permits resolutions of up to 1 µm increments making the Ackuray unparalleled in accuracy. The ingenious design of the system also has very few moving parts, making it highly reliable and easy to operate.
"The A135 embodies the innovation and value that Ackuretta has set out to achieve in order to revolutionize the additive manufacturing industry," said Ayush Bagla, Managing Director of Ackuretta Technologies. "By incorporating DLP technology in a flexible, high-precision 3D printer, we are set to provide the product manufacturing industry with the speed and accuracy necessary to deploy 3D printing in viable business model."
The A135 utilizes Materialise Visualizer software which opens a wide range of applications for DLP 3D printing. This highly functional, reliable software platform offers a streamlined user experience with great precision and customization abilities. As part of the A135 launch, Ackuretta is introducing 4 different resins engineered specifically for applications in jewelry, dentistry, medical, prototyping and production. These include four biocompatible materials, as well as materials for casting and modeling.
QuraDENT – QuraDENT is a photopolymer resin with opaque optical properties, a matte finish, and is ideal for printing dental models that are used extensively in dental laboratories. QuraDENT reproduces fine details in molds and is recommended for dental applications that necessitate high accuracy, a fine surface finish, and a high dimensional stability.
QuraGP – Designed to stimulate standard ABS plastics by combining good temperature resistance with high toughness, QuraGP offers durability, very low shrinkage, chemical and impact resistance. QuraGP is excellent for printing accurate and functional prototypes.
QuraCLEAR – Clear photopolymer resin with the ability to print parts with near optical transparency. It is ideally suited for surgical guides, flow models, and for prototypes that require a transparent aesthetic and a need for internal visualization
QuraWAX – QuraWax offers a smooth surface finish with high wax content for easy casting performance, making it highly suitable for jewelry and dental casting applications.
About Ackuretta Technologies
Ackuretta Technologies is a leading innovator and manufacturer of professional grade 3D printers and materials for the manufacturing of customized products across a variety of markets. Since its inception, Ackuretta Technologies has developed its own hardware, software, and proprietary materials to offer a full end-to-end solution as well as training and support. Ackuretta Technologies strives to provide the latest innovations in additive manufacturing at best-in-class value empowering customers and partners across a range of vertical markets. For more information, please visit: http://www.ackuretta.com/.
Contact
Ackuretta Technologies
Lucas Wiltse
lucas.wiltse@ackuretta.com